AM
É
LIORER LA PRODUCTIVITÉ, LES REVENUS ET LES MARCHÉS (IPIM) DES PRODUCTEURS DE SORGHO ET DU SAHEL
Financ
é
par le 
Bill & Melinda Gates Foundation
, IPM est un programme dirigé par  Dr. John Sanders du département d'agroéconomie de l'université de Purdue et directuer Botorou Ouendeba en vue d'atténuer la famine au Sahel. Les régions de la zone Sahélienne d'Afrique font face à plusieurs défis, the premier étant la crise alimentaire actuelle avec les risques de famines constituant un réel sujet de préoccupation. Apprenez comment le programme IMIP travaille pour améliorer les techniques et technologies agricoles ainsi que les pratiques commerciales des petits producteurs. Les objectifs sont d'améliorer les rendements des cultures du sorgho/mil, améliorer et stabiliser les prix avec pour résultats des revenus élevés pour les producteurs.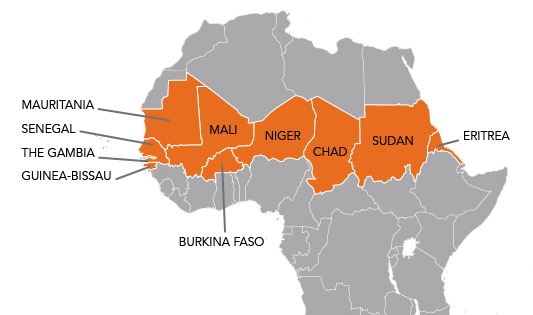 *Carte et estimations de la population
Burkina Faso - 18,2 million
10 pays constituent la zone Sahélienne climatic: Burkina Faso, Tchad, Erythrée, Gambie, Guinée Bissau, Mali, Mauritanie, Niger, Sénégal et Soudan
6pays constituent la zone Sahéliennede Afrique de l'Ouest: Burkina Faso, Tchad, Mali, Mauritanie, Niger, Sénégal
*Carte et estimations de la population:
Population Reference Bureau
.
Sujets de recherche
Student Reflections:
"The sights, sounds, and tastes of Colombia were unforgettable, but collaborating and building relationships with others coming from completely different angles than me was what I am most thankful for."
 

-Daron Wilson, Agricultural Economics
"This experience definitely contributed to my Purdue education. It made me realize how small the world really is, and that it is possible to work and get along with people of different cultures to produce fantastic results. I think if international education is promoted more, one day international relations between the countries of the world will be strengthened immensely."  

 

-Jacki K. Howard, Agricultural & Biological Engineering

"The interactive experience of visiting farms complemented the class well and is where I took away the most knowledge. I feel from this experience my Purdue education has taken a new turn and I can easily see myself becoming involved in more international programs and always trying to see things from an alternative perspective. I came away with a better understanding of food security and itnernational practices along with great memories and new friends!"


"The things I learned can't be taught in Class of 50 or Armstrong or Beering. I learned about different cultures and I experienced that you cannot judge a book by its cover."
*Les marches secondaires sont critiques pour réduire les fluctuations des prix résultant des conditions climatiques favorables et du rapide progrès technologique. Pour le mil, il s'agit du secteur en croissance d'entrepreneurs produisant des aliments dérivés de la transformation du mil. Pour le sorgho, the secteur de l'alimentation animale deviendra plus important avec la croissance économique, étant donne les avantages du sorgho vis à vis du mais au regard de sa résistance à la sécheresse et sa faible exigence en fertilité du sol.
John Sanders
Agricultural Economics
Professeur à la retraite; contact principal de recherche