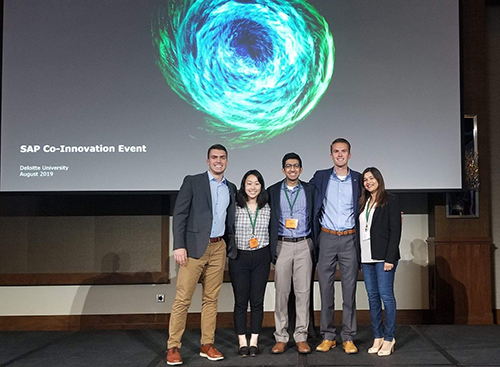 AGEC Senior Represents Purdue at Case Competition  
Written by Laura Barrett
Ag Econ senior Dane Chapman (Agrimarketing; Millersburg) represented Purdue this fall at the SAP Co-Innovation Case Competition at Deloitte University. Dane spent the first weekend of August in Westlake, Texas competing with 128 different students from 32 universities across the country. The three-day event gave students the opportunity to compete in the technology implementation case, meet with students from across the United States, and experience the firm's culture. The winning team was awarded $500 to each member for their efforts.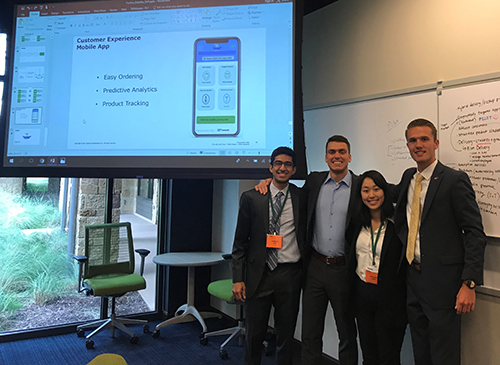 Focusing on new ideas and digital innovation, this contest was created five years ago to bring in the next generation of business leaders. Deloitte sees this experience as an investment in the future through those that shape how businesses will be run tomorrow. SAP stands for Systems Applications and Programs; this technology allows companies to manage their business operations such as procurement, service, sales and more.  
Students compete in teams of four and work together to pitch a case solution. In just 12 hours, Dane's team brainstormed, created timelines, built a framework, and developed a cost analysis for their recommendation to be presented the next day. A few of this year's projects were on Cold Chain Logistics, Smart Taps, and Sentiment Analysis. "The team I served on consisted of Sam Gudeman, Varun Raju, and Tiffany Chen. All three of them have participated in PurdueTHINK Consulting club or have had prior experience in consulting, so I was fortunate to be a part of their team!" 
This experience taught me a lot about the culture at Deloitte and all of the industries that they operate in. Additionally, I learned more about thinking strategically and developing a framework for designing a pitch since we had less than 12 hours from the time we were handed the case, to the time a final presentation was to be submitted. Going through the process of brainstorming, creating timelines, building a framework, and developing a cost analysis for our recommendation which we presented the next day was a great experience for our entire team.
This competition will be taking place again next year, so I would highly encourage other students to consider applying for the program!"