When Purdue professor of animal sciences, Paul Ebner, reviews data from his team's surveys of food safety knowledge and attitudes in Cambodia, his first priority is using the results to develop effective food safety outreach activities for vegetable farmers, distributors, and vendors. However, because his project is supported by federal funding, he is also required to comply with mandates for open and accessible data. These federal directives aim to provide evidence for scientists and decision-makers around the world and fuel entrepreneurship, innovation and scientific discovery.
Ebner's project is one of six supported by the Feed the Future Innovation Lab for Food Safety (FSIL), based at Purdue University and Cornell University. Funded by the U.S. Agency for International Development (USAID), the projects address policies and practices to reduce the burden of foodborne disease and malnutrition in target Feed the Future countries.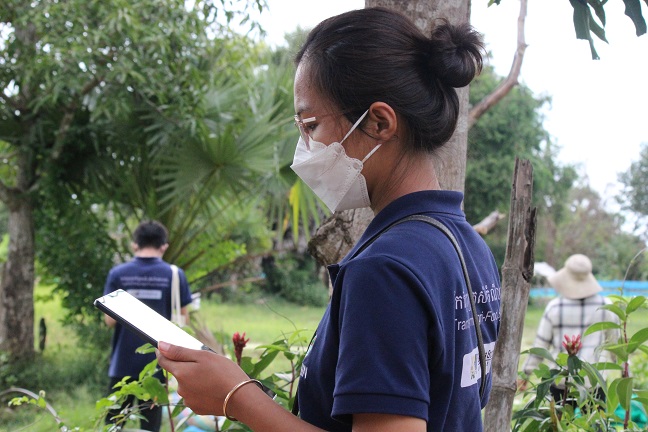 "Projects often have no issues with data collection and writing publications; however, organizing the collected data and making it accessible is another task," says Molly Webb, FSIL Managing Director. "FSIL strives to be a leader within the Innovation Lab community in data stewardship and open-sourced sharing."
The FSIL team initiated a collaboration with Purdue's Ag Data Services (ADS) to effectively provide support to their project teams in stewarding the collection, storage, curation and sharing of research data. 
"From FSIL's perspective, we want to be sure that data is not only available, but that it's also widely accessible and useful to the global research community," says FSIL Director and professor of food science Haley Oliver. "Our work can strengthen nutritional outlooks and well-being in developed nations by reducing the burden of foodborne disease, encourage economic development and develop productive partnerships."
Purdue's ADS has collaborated with FSIL to promote data management best practices and to ensure that datasets produced by the program are publicly available and accessible to the scientific community. In one of their key roles, ADS partners with researchers to organize and deposit their data to Harvard Dataverse and USAID's Data Development Library once research studies are complete.
Lead ADS research analyst, Nathan Denny, created useful tools to assist with data tracking, communicating specifics, and how sensitive information is being collected.
"USAID has a lot more requirements with data management than what many researchers are used to," says Denny. "Once you start working with universities and colleges across the world, it is helpful to have a standardized practice with data collection and management."
Purdue ADS will help researchers to annotate and structure their data in proper formats while utilizing catalogued keywords (AGROVOC – standard controlled vocabulary used by the Food and Agriculture Organization) to help bring standardization into data storage and organization.
"This is the first partnership of its kind between Purdue's ADS and a USAID-funded research program," says Diane Berg, an ADS data analyst. "Now that resources and a data stewardship process have been established, they can be applied to other USAID or federally funded research programs with similar needs."
According to Denny and Berg, time constraints and accessibility are often barriers for researchers with open-source data. Purdue ADS has partnered with research teams in all stages of the research data lifecycle and provides a simple way for federally funded researchers to share their data and comply with government policies.
"This type of resource may not be available to other researchers at other universities," says Webb. "Working with ADS allows FSIL researchers to focus on their research while Ag Data Services  supports the organization and dissemination of the project data."
If researchers or teams are interested in working with Purdue's Ag Data Services, reach out to ADS Interim Director, Jarrod Doucette, or visit the website.