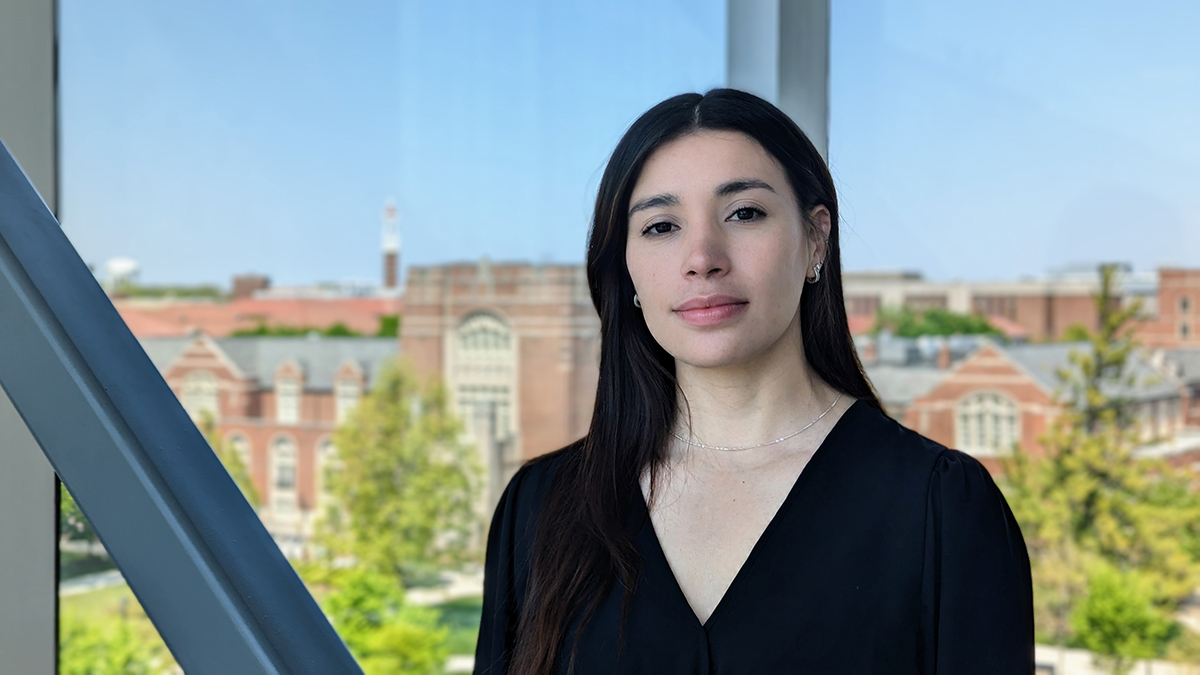 Graduate researcher finds her perfect fit in the North Central Regional Center for Rural Development
An interest in economics and business management, led Alejandra Armesto Gómez to embark on a journey that would lead from her hometown of Bogota, Colombia to Purdue University.

While working on her second bachelor's degree from the National University of Colombia, Alejandra was awarded the Undergraduate Research Experience Purdue-Colombia (UREP-C) scholarship. UREP-C is a partnership which aims to engage in and lead to high-impact collaborative research, education, and economic development activities that benefit Colombia, Purdue, and the State of Indiana. The opportunity allowed Alejandra to travel to Purdue and work on science diplomacy with Arvind Raman, professor of mechanical engineering, and on open enrollment policies for scholar districts with Michael Wilcox, assistant director and program leader for Purdue Extension community development, and Lawrence DeBoer, professor of agricultural economics. It also opened her eyes to advanced degree options at Purdue.

After setting her sights on graduate school, Alejandra applied to a few universities, but ultimately found that the academic standing, diversity, and sense of belonging she felt at Purdue matched perfectly with what she was looking for in a university.

During a campus visit, she also interacted with faculty and staff from the North Central Region Center for Rural Development (NCRCRD), and eventually joined their team as a graduate researcher upon being accepted to the agricultural economics master's degree program last fall. NCRCRD is a center within the department of agricultural economics at Purdue. Its mission is to build rural communities through cutting edge research and Extension programs and innovative partnerships.

Alejandra joined NCRCRD at an opportune time. The center was preparing to release its first dataset, the NCR-Stat: Baseline, and was looking for graduate students to engage with and analyze the data. The NCR-Stat: Baseline offers primary economic and social data focused on households, businesses and community wellbeing in the 12-states of the North Central Region (NCR).

Using the data, Alejandra has already contributed to three articles which will be published in the "Story behind the Numbers" series on the NCRCRD's website. The first article entitled, "Does your local community treat all residents fairly?" examines the topics of diversity, equity and inclusion. The second article examines "How does the North Central Region perceive residents from different cultures and belief systems?." The third article is still in production.

Alejandra has also found her research focus while working in the center. She is especially interested in the power dynamics within copreneurs, or spouses who work together in business, and is particularly interested in how it affects their perception of success within the business.

"My motivation for studying copreneurs remains a personal experience," said Alejandra. "My parents had a small business together; however, it shut down during the first wave of the pandemic."

Alejandra's experience working with NRCRD has allowed her to meet and grow with incredible people from different cultures at Purdue, reaffirming her decision to choose the agricultural economics department for graduate studies.