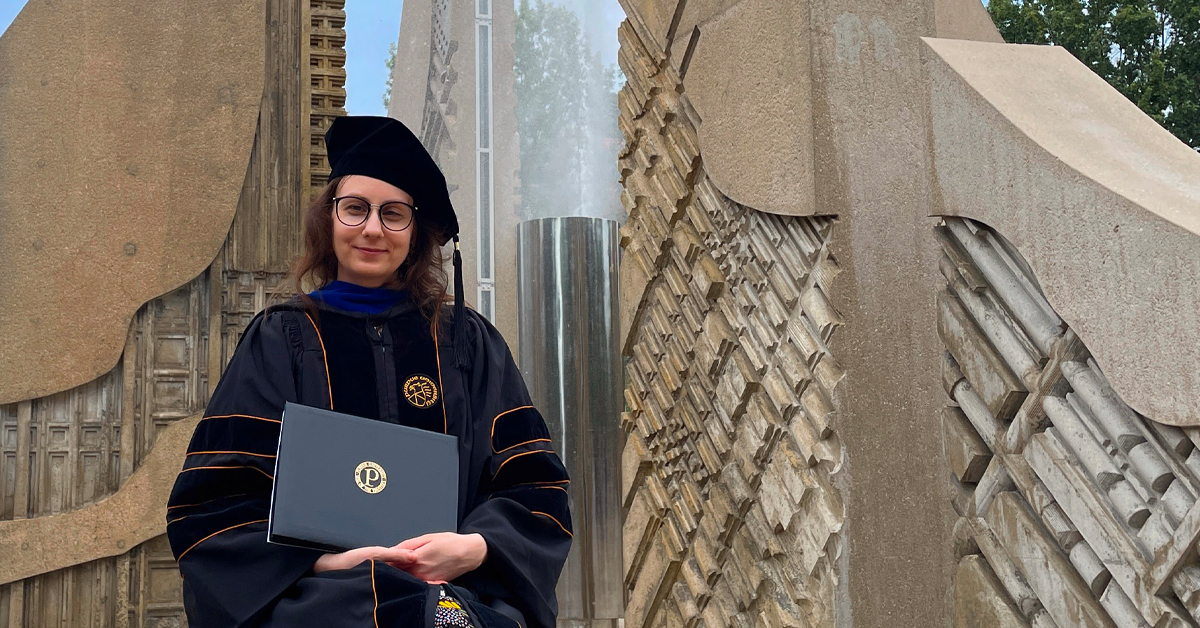 A little luck, a competitive scholarship, and a solid recommendation, led Serbian native to study agricultural economics at Purdue
A path that leads to Purdue
Nina Jovanovic's path to studying agricultural economics started in an unlikely place, a philological grammar school where students specialize in languages. Nina whose language specialization was Italian, was preparing for graduation but had found herself at a crossroads.

Lost on what her next step should be, a friend suggested she look into studying agricultural economics at the Faculty of Agriculture, University of Novi Sad, Serbia. For Nina, the decision would be a turning point, completely different from what she had previously studied.

While at the University of Novi Sad, Nina received a competitive one-year scholarship offer to the North Dakota State University where she met Professor Dragan Miljkovic. In addition to giving her advice on how best to pursue master's level studies in the U.S., Miljkovic suggested she look into the agricultural economics program at Purdue.

"Professor Miljkovic highly recommended Purdue University because of the quality of the program and expertise of faculty who are conducting research on a broad range of topics," said Nina. "I came to Purdue for my M.S. and stayed for my Ph.D. because there were good research opportunities and I enjoyed the collaborative and supportive environment."

At Purdue, Nina gravitated toward courses that offered diverse learning outcomes and included writing final papers, policy briefs, referee reports, conducting data analysis, and replicating results from published articles. She greatly benefitted from coursework in Applied Microeconomic Theory and Theory of Economic Development taught by her major advisor, Dr. Jake Ricker-Gilbert; Research Communication for the Engaging Researcher taught by Dean Linda Mason; Ag Policy taught by Tor Tolhurst, and Econometrics taught by Kevin Mumford.

Nina's Ph.D. dissertation research primarily focused on technology adoption in low-income countries and the effects on household food security and safety. She was particularly interested in understanding how information that farmers do or don't have about technology impacts their adoption decisions. In her third year, Nina traveled to Kenya to begin collecting data for her dissertation but quickly hit a snag when pandemic lockdowns forced her to evacuate from the area.
Perseverance when faced with adversity
Nina was once again at crossroads leaving her to choose between completely restarting her dissertation or halting data collection until it was safe to return. She chose the latter, delaying her research project for 6-months.
"Everyone from the AgEcon department, including the department head, my advisor, grad chair, and the College of Agriculture were all understanding of my situation and supportive of my intention to go back and implement the project," said Nina. "Of course, there were many precautions and new procedures in place to ensure my safety and of everyone else involved, but we made it work."
Back in the field, Nina would spend nine months conducting a large-scale randomized controlled trial in upper eastern Kenya and used the data to complete her dissertation.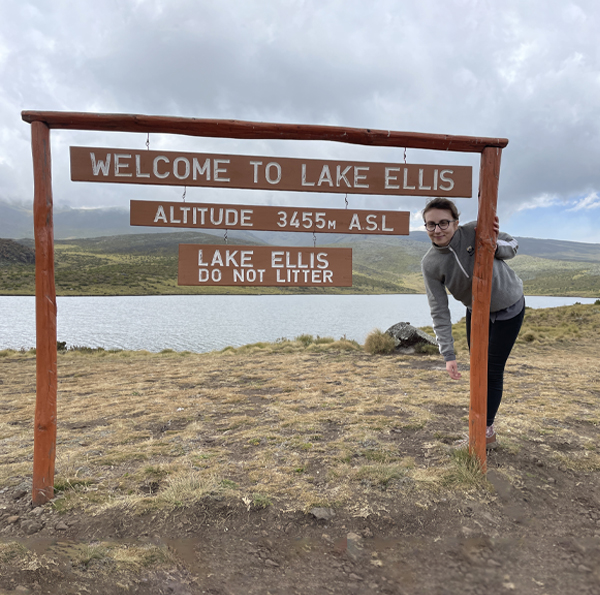 Reflection
Although COVID had a large impact on her graduate studies, Nina has numerous memorable experiences to look back on. She feels tied to both her 2016 M.S. and 2018 Ph.D. cohorts and was grateful for the learning opportunity to conduct fieldwork in Kenya. She said even through the ups and downs, she will always cherish the camaraderie in the department. She recommends future graduate students keep an open mind and not pass up a good opportunity, even if it requires extra work.

"Getting an advanced degree is a hard and massive achievement," said Nina. "The grad school environment inevitably makes us grow beyond our academic achievements. We become more resilient, good problem solvers, and critical thinkers."
Post-Graduation
With the toolkit Nina developed at Purdue, Nina feels well-prepared for her post-graduate role. This past month, she accepted an Associate Research Fellow position at the International Food Policy Research Institute's (IFPRI) Development Strategy and Governance Division in Cairo, Egypt. In this position, she will be involved in all stages and components of research, field work, and the writing of journal articles. She is currently leading her first project in Yemen.