Dr. Mitch Zischke's Marine Biology class (FNR 201) offered students getaways to aquatic locales around the world from the comfort of their own computer screen, while also introducing them to many different aquatic species as well as ocean habitat threats in a fully virtual format.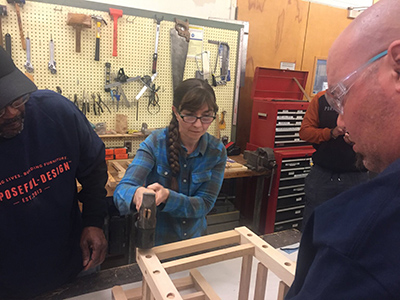 Dr. Eva Haviarova's efforts in developing the skills of craftsmen at Purposeful Design, a custom furniture building business that trains and employs men who have a troubled past, were highlighted. 
Purdue Extension wildlife specialist Jarred Brooke's work with prescribed fire is now being used to educate a new audience about various techniques of the habitat management method, the Wounaan indigenous community of Panama among others, thanks to the United States Forest Service. 
Urban forester Lindsey Purcell shared about the importance of tree preservation and providing education that reflects the best management and planting practices in "Purdue Urban Arborist Discusses the Power and Beauty of Trees." 
Dr. Elizabeth Flaherty was featured in the Envision magazine story "A Good Teacher Can Change Everything." 
The Natural Resources Teacher Institute (NRTI), involving FNR Extension forester Lenny Farlee as well as members of the Hardwood Ecosystem Experiment, hosted nine classroom teachers for a five-day program, which introduced educators to Indiana forests through the lenses of public and private forest management, a long-term forest research project, forest products and industry, and the diversity of plant and animal communities supported by forests. 
The Familiar Faces Research and Extension Experiential Learning for Undergraduates (REEU) program, hosted by Dr. Liz Flaherty, associate FNR professor, and Megan Gunn, FNR recruitment and outreach specialist, was featured in the article "REEU program highlights "Familiar Faces" to increase diversity in FNR." 
Megan Gunn was quoted in a Purdue Exponent article on ways to enjoy nature around campus. 
Jarred Brooke's FNR 46500 History and Role of Hunting in North American Wildlife Conservation course was featured by Purdue Ag.
While Akane Abbasi is continuing her own studies, with at least another year left in working toward her Ph.D., she launched a project in January 2021 aimed at educating people in her home country on a variety of topics. With her YouTube channel, Abbasi shares what she has learned in research papers and through her own experiences with the Japanese audience.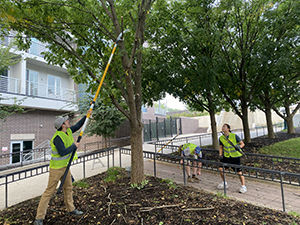 Thirteen students in the Arboricultural Practices (FNR 44400) class taught by urban forester Lindsey Purcell participated in a service-learning project, pruning trees in the downtown Lafayette area, putting their classwork into practice, while also assisting the local community. 
Three FNR students – Megan Kiselica, Phoebe Soldi, and Ray Neff - who also are members of the Purdue All-American Marching Band, were featured for their involvement in Homecoming Week festivities. 
Students from the Purdue chapter of the American Fisheries Society were part of an effort to begin restocking the newly renovated lagoon at Columbian Park in Lafayette last week. Alongside professionals from the Indiana Department of Natural Resources and the City of Lafayette, the students helped stock and tag more than 900 largemouth bass. 
FNR remembered lead administrative assistant Marlene Mann, who passed away in June 2021 after a nearly 45-year career at Purdue. 
FNR forester Don Carlson and farm manager Brian Beheler were featured in the Purdue Alumni Magazine story. The story followed the pair into the woods at a variety of FNR's woodland properties throughout Indiana to discover the natural beauty of those areas, learn about some of the research that goes on there, and gain a deeper appreciation of forest management and its role in helping woods grow and thrive. 
Alumni In The Media
PhD alumnus Jim Beasley was featured in the University of Georgia alumni magazine (p20-25) for the practicum-like experience he puts on for his students at the Savannah River Ecology Lab
Tyler Hirschinger and Stacey Woessner of Bartlett Tree Experts met with Lindsey Purcell's arboriculture course. Eight Purdue alumni are members of the Bartlett staff, their FNR experiences and current jobs are featured in "Alumni Put FNR Experience to Work at Bartlett Tree Experts."   
PhD alumnus Dante Francomano had his work on soundscapes featured in Frontiers in Ecology and the Environment. The article "Beavers increase bird diversity in Tierra del Fuego" highlights his research in Argentina, which involved comparing recorded acoustic activity in intact forests, ponds created by beaver dams and meadows created after pond drainage that contain low vegetation and dead standing and felled trees. The article is based on the publication "Acoustic monitoring shows invasive beavers Castor canadensis increase patch-level avian diversity in Tierra de Fuego," which first appeared in the August 2021 Journal of Applied Ecology.
2008 wildlife alumnus Matthew Aghai and his company Droneseed were featured in a National Geographic article "To Regrow Forests, U.S. Needs Billions of Seeds, Many More Seed Hunters." The article details the company's use of swarms of drones to reforest burned sites. Aghai is the senior director of biological research and development at Droneseed.
Dr. Henry Quesada, then a professor and extension specialist at Virginia Tech University, was featured in "From green wood to a green world: How Extension agents are impacting America's hardwood industry." Quesada, who earned his master's from FNR in 2001 and his PhD in 2004, was named as Agriculture and Natural Resources program leader for Purdue Extension in February 2022. 
2019 alumna Katie D'Addato's journey to her dream job working as a sea turtle rehabilitation technician is featured in this story.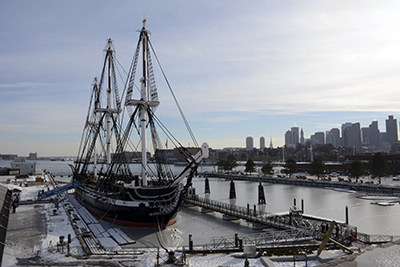 A handful of workers on the Naval Support Activity (NSA) – Crane base, many of them FNR alumni, are still working to fulfill the initial goal for the land, sustainable forests. In 1976, the base was named as the sole provider of hull planks and non-laminate material for the renovation and restoration of the U.S.S. Constitution, also known as Old Ironsides. The story of their participation in the 2017 restoration and past efforts is detailed in "FNR Alumni Keep History Afloat." 
1960 alumnus and longtime faculty member Walter Beineke, his friendship with astronaut Jerry Ross and their collaboration in cultivating and planting sycamore trees across the state that were grown from seed that was taken to outer space in 1988 is featured in "Space Sycamores: A Legacy of Hope, Friendship." 
Dr. John Moser, who completed his Ph.D. in forestry in 1967, and his family were featured in "Moser Family Bleeds Black and Gold." The story details the family legacy of Purdue ties, ranging from John and his wife Joyce to their children and grandchildren. Moser also was honored by his former graduate students with a plaque honoring their mentor to ensure that his name and impact would be known to all generations to come. 
FNR remembered long-time professor and two-time FNR alumnus Walter Lain "W.L." Mills for his personality, positivity, and impact, following his passing in March 2021. 
2020 alumna Cassidy Robinson landed her dream job with the Iowa Department of Natural Resources in March 2021. Her journey from a biology major to FNR, as well as many internships and experiences along the way, are detailed in this alumni update. 
Diversified: The Florida Panther Story, a short film produced by Olivia Andrus, which includes Dr. J. Andrew DeWoody among its cast, made the rounds at the 2020-21 film festivals. 
Alumna Novem Auyeung's holistic approach in New York City parks was featured in the Purdue Climate Change Research Center's Stories of Change series. 
Wildlife minor Lucas Foertsch detailed how his time and experiences in FNR, including the Career Fair,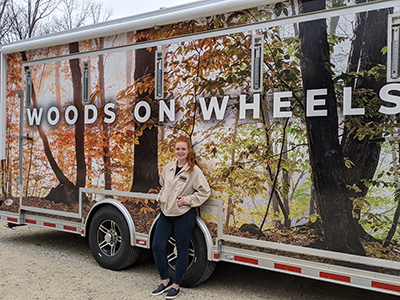 impacted his career as an environmental biologist for Lochmueller Group.
Alumna Sara High was featured for her role as the Woods on Wheels operator. The Woods on Wheels project, a traveling exhibit that will be educating residents of all ages across the state, is a collaborative effort of the Indiana Department of Natural Resources (DNR), the Indiana Hardwood Lumbermen's Association (IHLA), and Purdue FNR.